About food FIRST
After decenniums of neglect in the governance discourse of governments and national and international institutions, the past three years have shown a revaluation of the primary process of agriculture. The sudden increase in food prices in 2008 and in 2010, the effects of this on the food situation in several southern countries, and the political unrest that accompanied that have worked as a wakeup call. By now, it is clear that we have to make considerable investments in order to prevent that food prices will double over the next twenty years. At the same time, food scarcity – being one of the new scarcities – has appeared to have an explosive potential for the political agenda for global cooperation and peace. Food is a fuse underneath a workable world order. This interconnectedness in one scheme: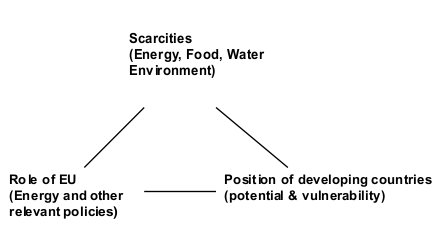 These, and similar considerations lay at the basis of the Food First program that was initiated in 2007 and has since acquired support. In 2010 this initiative connected with the Floriade 2012, to form the Platform Food First-Floriade 2012.
Antecedents
The SID lecture series 2008-2009 on Emerging Global Scarcities and Power Shifts. These lectures and those of the closing conference have been published under the same title – see www.sid.nl.org .
The report Food Security of the work group Agriculture and Food Security of RTWC, chaired by Herman Wijffels. 14 December 2010, RTWC presented her report to the Dutch Government (ministers Bleeker and Knapen), with a reference to both the "Basisbrief Ontwikkelingssamenwerking" as well as the LNV The Hague Global Conference on Agriculture, Food Security and Climate Change, November 2010. In this report one finds a strong argument to spend a larger part of Development Cooperation to the development of agriculture, and it contains proposals for implementing this.
It is the intention of the Food First-Floriade 2012 Platform, RTWC, and EL&I, with support of the Rabobank Washington office, to offer this report – revised and translated into English – to the World bank in Washington. The aim is twofold: it will be a follow up of the The Hague conference of November 2010, and a run up to Floriade 2012.
Meeting with the EU Commissioner for Development Cooperation, Andris Piebalgs, around the SID Europe Briefing Session in Brussels, 9 February 2011, on Energy and Development, where Piebalgs delivered the key note speech.
Complete programme