Around foodFIRST
FAO News
2015: International Year of Soils
De FAO heeft 2015 betiteld als het Internationale jaar van de bodem. [> Zie verder de informatie van de FAO.
The Good Food Agenda 2030
Onderteken de petitie voor het realiseren van deze doeleinden voor 2030:
» Voor iedereen beschikbaar, betaalbaar, gezond en voldoende voedsel
» Voor iedereen veilig en voedzaam eten
» Wereldwijd een eerlijk en transparant voedselsysteem
» Wereldwijd duurzame productie en consumptie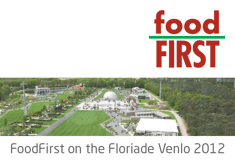 Available for download: FoodFirst on the Floriade Venlo 2012, the illustrated short report of the FoodFirst conferences in 2012.
foodFIRST Video